Dr. Kate Brucker
Veterinarian

Dr. Kate Brucker is a Central Illinoisan born and raised! She grew up on a farm just outside of Warrensburg, Illinois. She earned her Bachelors in Science from the University of Illinois in 2002 and her Doctorate of Veterinary Medicine also from Illinois in 2006. She practiced in eastern Illinois for a few years before joining the Albin Animal Hospital family in July of 2010. Her interested include veterinary dentistry.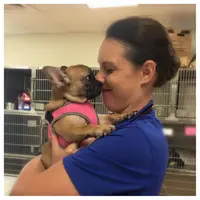 Dr. Kate lives in Tuscola, IL with her husband Eric and their three children Alyson, Tessa and Jacob. The Brucker family has three dogs and a cat. Jack Cat is your average domestic shorthair. Maverick is a sheltie mix with an unhealthy obsession with squirrels. Macaroni and Cheese Pup Pup Pup (yes, that is his full name) is a sheltie that was named by Dr. Kate's oldest daughter. (Dr. Kate wanted to name him "Goose" but was out voted!) The third is a Long Hair Chihuahua mix named Poof. Dr. Kate also has a handful of exotic animals; Hedgehog named Ralph, Guinea Pig named Snickers, 4 box turtles; Maude, Captain, American and Hazel, and 10 Chickens.
In her spare time Dr. Kate enjoys reading, quilting, sewing, photography and running.